The Office of the State Attorney for the Third Judicial Circuit is committed to Florida's principal of open government. Access to public records is guaranteed under Sections 119.07(1) and 286.011, Florida Statutes, and Article I, Section 24 of the Florida Constitution. A request form is provided for your convenience. However, public records requests do not have to be in writing and may be anonymous.
Please be aware of the following:
Public records are not free

. Fees for copies of public records are established in law. Depending upon the record, fees for copies may be either specific to the State Attorney's Office or may be based on the general fees established in the Public Records Act.
Any applicable charges will be invoiced, and the charges must be paid prior to the requested copies being processed.
Should any requester fail to pay for the work requested, further records requests will not be fulfilled until the previous outstanding balance has been paid in full.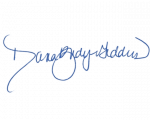 OPTIONS FOR SUBMITTING YOUR REQUEST
Our custodian of records is Dana Brady-Giddens.  Her office is in Live Oak and that address is 310 SW Pine Ave. Live Oak Florida, 32064.  She can be reached by phone by calling our Live Oak office at (386) 362-2320
YOU MAY ALSO ELECT TO FILL OUT AN ONLINE FORM
THE ONLY REQUIRED FIELD IS THE REQUEST BOX BUT PLEASE BE AWARE, IF YOU DO NOT INCLUDE A METHOD FOR DELIVERY, WE WILL NOT KNOW HOW TO GET YOU THE INFORMATION YOU REQUESTED.